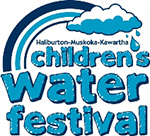 July 2017 – Haliburton-Muskoka-Kawartha Children's Water Festival – grant awarded for HMKCWF in October.
Project objectives: To provide an active, outdoor hands-on learning event which teaches elementary students the importance of water and water ecosystems and inspire water stewardship practices. The intention is that good water messages will be transferred back to children's' classrooms where teachers can draw upon these curriculum-linked messages. Children will also start acting on these important messages, becoming stewards in their homes and communities. Participants, including students, teachers and parent supervisors, learn that their actions and attitudes make a difference towards water and ecosystems, and that they are ultimately responsible for maintaining healthier water systems for future generations. Final Report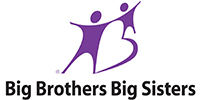 July 2017- Big Brothers Big Sisters of Guelph – grant awarded for the 2017 Environ-Mentoring Program.
Project objectives: The Environ-Mentoring Program is designed to provide environmental and conservation education to at-risk youth who would otherwise not have access to such programming. Other community groups in Guelph offer similar programs, but there is always an associated cost or membership, and the families of our marginalized youth often must direct their spending to more immediate needs such as food, rent and clothing. Our innovative approach cultivates these beneficial abilities in the children who so desperately need them the most, by developing their appreciation and awareness for the natural world through environmental education.
Since 2014, our at-risk youth have participated in educational programming that has gotten them in touch with nature, while having fun and learning to cooperate as a group. They have gone snowshoeing, canoeing, and caving; they have studied birds, water habitats, and winter wildlife; and have celebrated Canada's 150th and Earth Day with a nature beautification event. They have even learned about other environmental projects in Ontario through the Nature Crusaders magazines that were gifted to us by OWF (thank youJ)! The Environ-Mentoring Program has been such a success that we are running it again this year, for the benefit of new children who will be supported by mentoring through Big Brothers Big Sisters of Guelph. Interim Report  Final Report
July 2017- Ontario ALUS – grant awarded for the 2017 ALUS communities program.
Project objectives: To provide extension assistance to four ALUS communities so that farmers in those communities learn to enhance their marginal lands to conserve and enhance fish and wildlife habitat. Project locations are Norfolk County, Municipality of Bayham in Elgin County, Grey and Bruce Counties, and watersheds of the Raisin Region and South Nations Conservation Authorities. This is year three of a three year project. Final Report
July 2017 – Conservation Halton Foundation – grant awarded for the 2017 Mountsberg Shrike Recovery Project.
Project objectives:   Conservation Halton was approached by Wildlife Preservation Canada to fund, build and run a facility dedicated to breeding Eastern Loggerhead Shrikes for release to support the recovery of the wild population. And help bring the endangered Eastern Loggerhead Shrike (ELS) back from the edge of extinction in Canada. The Eastern Loggerhead Shrike were listed as endangered in Canada in 1991. To accomplish this project the Conservation Halton Foundation constructed a facility that housed 12 shrikes (6 breeding pairs) in 2010-2011. Since the we have raised 126 young and 112 were released back in to the wild.
In addition to supplementing and stabilizing the wild population of Eastern Loggerhead Shrike via captive breeding and release, the Mountsberg Shrike Recovery Project includes a campaign to raise awareness of Ontario's species at risk. By highlighting the ELS in Mountsberg's already existing and very successful educational programs, this project can make a difference for community members and students. Final Report

July 2017 – Crowe Valley Conservation Authority – grant awarded for the An Environmental Outdoor Education Centre – A Yurt Experience
Project objectives: The CVCA has been fundraising since 2009 for the McGeachie Outdoor Education Centre and finally by 2013 we had raised enough money to purchase a Yurt. We are now looking for funds to build a wooden platform for the Yurt to sit on and to be secured to. The Yurt will provide a centre to form relationships with local school boards, special interest groups and the community as a whole. The centre will utilize and expand upon green technologies in its implementation and delivery of the centre and its programs enforcing the ideas of sustainability and conservation. The centre will create a learning environment that will be an invaluable experience to the young and the young at heart. Final Report
July 2017 – Ducks Unlimited Canada – grant awarded for the European Water Chestnut Control on Wolfe Island project.
Project objectives: Wolfe Island is a designated international Important Bird Area (IBA) providing critical habitat for thousands of dabbling and diving ducks. This lush 30,000 acre island provides continentally important habitat for ducks and geese and hundreds of species of other fish and wildlife. Unfortunately, it has also been a target of the invasive European Water Chestnut. European Water Chestnut is an aggressive, annual aquatic plant that chokes the life out of wetlands and shallow bays by reducing the amount of light that penetrates the water's surface. This prohibits the growth of native plants which decreases plant biodiversity. Reduced light penetration and plant growth beneath the Water Chestnut canopy, combined with a large amount of decomposing vegetation, leads to decreased oxygen, causing much less productive waters, and greatly reduces their value to waterfowl, fish and other wildlife. To eradicate this invasive plant, it is necessary to maintain monitoring and control so it does not impact the physical, biological or economic benefits of these coastal bay wetlands. Final Report   Update
July 2017 -Friends of Cedar Bay– grant awarded to Development of two new Activity Centres for the Sioux Lookout Children's Water Festival 2017
Project objectives: Friends of Cedar Bay borrows a "Just Add Water" kit from the Ontario Children's Water Education Council.   We are able to use 6 of the activities from the kit. We would like to expand the number of Activity Centres we offer so that we can increase the capacity for more students, and expand the range of water education. We are proposing to develop two interactive activities. Lay My Egg will help students learn about the life cycle of selected breeding birds in the Boreal wetlands and the importance of different kinds of habitats in the life-cycle of these birds.   Water Runs Downhill will introduce students to the local watershed; demonstrate how water moves through the landscape; and teach the significance of shoreline vegetation.
July 2017 – Ontario Invading Species Awareness Program – grant awarded for the Outreach, Surveillance and Control of Invasive Water Soldier.
Project objectives: Eradicate Water Soldier from the Trent Severn Waterway. Water Soldier (Stratiotes aloides) is an aquatic invasive plant native to Europe and Northwest Asia. Most likely introduced by the disposal of water garden plants, Water Soldier was first discovered in the Trent Severn Waterway, near the Hamlet of Trent River, Ontario in 2008. The waterway is also home to hundreds of species of wildlife including birds, reptiles, fish and mammals, including some species at risk. This project aligns with the ISAP mandate in terms of preventing the introduction and spread of invasive species into new areas, and aiding in monitoring and control efforts to protect numerous wetlands/watersheds. These project goals align with the Invasive Species Strategic Plan in terms of: protecting and enhancing the biological integrity of aquatic ecosystems; promoting the sustainable use of fisheries resources; and, developing greater knowledge of fish habitat and aquatic ecosystems. Water Soldier has also been listed as a priority species by the Council of the Great Lakes Governors and Premiers due to its invasive nature. In the absence of control of Water Soldier populations, this invasive plant will spread and infest new areas of the Trent River. In the absence of control in 2012 and 2013 the Water Soldier populations grew exponentially from 60 ha in Lake Seymour to over 150 ha by 2014. This impressive growth must be kept in check if we are going to gain any ground and ensure that water soldier does not invade new waters in Ontario, or reach international waters in Lake Ontario. Final Report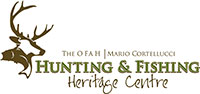 July 2017 – Mario Cortellucci Hunting and Fishing Heritage Centre – grant awarded for Heritage Park Redevelopment Project
Project objectives: In partnership, the City of Peterborough and the Ontario Federation of Anglers and Hunters have recently entered into an agreement to acquire and develop a parcel of land within the city, municipally known as 2034 McNamara Drive. Since 2008, this property has been embroiled in a legal action and was seized by the Crown in 2012 in accordance with the Seized Property Management act. Approximately three-acres, this parcel of land, which borders the picturesque Trent-Severn Waterway, will provide the backdrop for a redevelopment that will see the transformation of this waterfront property into a park-like setting that can be enjoyed by our entire community and visitors alike. This unique redevelopment project will allow visitors to enjoy free access to fishing areas, interpretive trails, pollinator gardens and picnic areas, as well as nature-based playgrounds and an outdoor classroom. It will also provide the OFAH with expanded opportunities to continue to deliver outdoor programming that is currently being offered at its neighbouring property, the OFAH/Mario Cortellucci Hunting and Fishing Heritage Centre. It will be used by the more than 100 classroom educational field trips and community groups that visit our facility each year. Studies have shown that the retention rate of learning by doing is 75 percent compared with just five percent for lecture-based learning (Bethel Learning Institute Study). This can provides many new and exciting ways to complement existing lesson plans and create a new environment for youth and adults to learn about our great Canadian outdoors. It will provide an opportunity for youth to learn hands-on about insects, flowers, trees and their ecosystems, and instil the qualities necessary for them to become the next generation of nature stewards. Final Report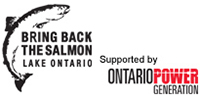 July 2017 -Atlantic Salmon Restoration Program's – grant awarded for the Lake Ontario Atlantic Salmon Restoration Program (LOASRP).
Project objectives The Lake Ontario Atlantic Salmon Restoration Program is a multi-organization partnership headed by the Ontario Federation of Anglers and Hunters (OFAH) to restore a self-sustaining population of Atlantic salmon to Lake Ontario, from which they have been extirpated since the late 19th century. The full-scale restoration program was officially launched in April 2006. The long-term goal of a self-sustaining population is projected to be achieved in 10 to 15 years. The restoration has four major components: (1) fish production & stocking; (2) habitat & water quality protection and improvement; (3) research & assessment; and (4) education & outreach. While significant corporate and in-kind support has been received to date, it is only meeting baseline funding requirements, and we are seeking additional funding to ensure the long-term success of the program.
With this proposal, we are seeking to secure; the fish production, stocking, education & outreach components of the program. More specifically we are looking to to supplement fish production costs to ensure we continue to have eggs available for classroom hatcheries and fish available to stock into our target rivers.   We are also looking to support travel and some staff time to deliver eggs to classroom hatcheries and subsequently release the hatched young fish into our targeted restoration rivers, and to grow the number of presentations we give to schools about the restoration program effort and Atlantic salmon in Lake Ontario. Part of the education & outreach funding request is also to replace the consumable supplies the participating schools require each year for their classroom hatcheries (e.g. filter material). Final Report
July 2017 – Toronto Wildlife Centre – grant awarded for rehabilitation, education and medical care for birds of prey.
Project objectives: this project, you will be providing critical funding for the medical care and rehabilitation of up to 50 birds of prey over a 1-year period, with the ultimate goal of releasing each one of them back to the wild where they will continue to contribute to their ecosystem. Further, you will be helping members of the public who find these birds in life-threatening situations; people who are often distraught and have nowhere else to turn. TWC also educates thousands of people about threats facing birds of prey through TWC's social media channels, e-newsletters, our blog and our education program which consists of presentations to school and community groups. Through these outlets, we encourage people to learn more about ways they can take action to help raptors and advocate on behalf of these species.
July 2017 – Trout Unlimited Canada – grant awarded for rehabilitation of Upper Credit Conservation Area.
Project objectives: The goal of the project is to improve and rehabilitate cold-water brook trout (Salvelinus fontinalis) habitat in the Upper Credit Conservation Area, located in Caledon (20073 Porterfield Road). Historic agricultural activities (cattle pasturing) up until the mid-2000s played a factor in stream degradation in the Upper Credit Conservation Area resulting in erosion, an over-widened stream, loss of streamside vegetation, and increased water temperatures. These impacts have contributed to a decline in the cold water brook trout population in this reach.
Through a collaborative partnership program consisting of five organizations including our major partner, Credit Valley Conservation, we are working towards restoring and protecting the Credit River in the Upper Credit Conservation Area. We have a five year project plan in place and 2017 marks our third year. Final Report