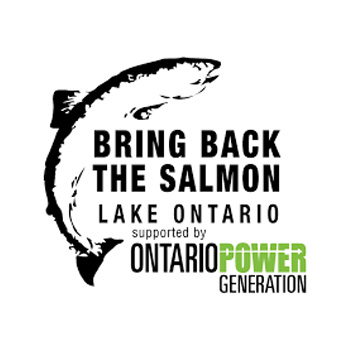 Lake Ontario Atlantic Salmon Restoration Program
* Grant awarded for the Lake Ontario Atlantic Salmon Restoration Program (LOASRP).
Project objectives:

The Lake Ontario Atlantic Salmon Restoration Program is a multi-organization partnership headed by the Ontario Federation of Anglers and Hunters (OFAH) to restore a self-sustaining population of Atlantic salmon to Lake Ontario, from which they have been extirpated since the late 19th century. The full-scale restoration program was officially launched in April 2006. The long-term goal of a self-sustaining population is projected to be achieved in 10 to 15 years. The restoration has four major components: (1) fish production & stocking; (2) habitat & water quality protection and improvement; (3) research & assessment; and (4) education & outreach. While significant corporate and in-kind support has been received to date, it is only meeting baseline funding requirements, and we are seeking additional funding to ensure the long-term success of the program.
With this proposal, we are seeking to secure; the fish production, stocking, education & outreach components of the program. More specifically we are looking to to supplement fish production costs to ensure we continue to have eggs available for classroom hatcheries and fish available to stock into our target rivers.   We are also looking to support travel and some staff time to deliver eggs to classroom hatcheries and subsequently release the hatched young fish into our targeted restoration rivers, and to grow the number of presentations we give to schools about the restoration program effort and Atlantic salmon in Lake Ontario. Part of the education & outreach funding request is also to replace the consumable supplies the participating schools require each year for their classroom hatcheries (e.g. filter material).